New Arrivals.
We have taken delivery of even more machines to bolster our hire fleet. A new Genie 40/69 Bi Energy Scissor Lift another Genie Z34/22 RT Cherry Picker, a new 80 Ride on Roller to add to our fleet, two new 1.4 ton Kubota Excavators, a new Manitou 200ATJ Boom, three new Compair Compressors and new 5/3 ½ Mixers. We have also taken delivery of a new 13 tonne, Mercedes Atego Lorry with Andover bed that will be run out of our Cirencester branch. The lorry has a bigger payload capacity with short wheel base allowing the depot to deliver more machinery at once in a quicker and effective manner.
Fifty Year Celebrations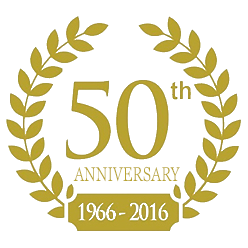 We are proud to be celebrating our 50th year in business this year. When we opened in 1966 in a small premises in Brockworth who would have thought 50 years later we would have six depots across the South West, employee seventy staff and have such a wide range of machinery for hire. We have become a well known brand in Gloucestershire and we are looking forward to the next 50 years in business.
Last but not least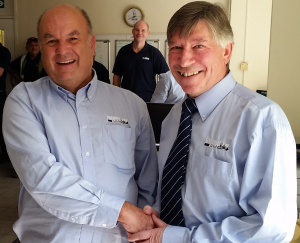 Ermin said goodbye to its longest serving employee this May. Access Manager, Martin Watts, retired after 42 years with the Company. Starting in our workshop at Mercia Road in 1974 and progressing to Workshop Foreman, Martin then made the leap to Plant Manager, buying much of our equipment, with the demand for Access machinery high, Martin then carried out site visits for access hire for many years clocking up many miles and visiting many customers. Martin will be sorely missed at Ermin by staff and customers alike and certainly deserves a rest. Well done Marty.